Discover more from Stories from the Future
A monthly newsletter with future scenario's, the latest news about human augmentation and deep dives into topics that discuss the future of humanity. And some sciencefiction and pop culture.
Superhuman News 🤖 - Herman and the pigs
Peter Joosten MSc.
Hey there,
Suppose you need a new heart, but you are at the bottom of a long waiting list. Would you choose to have a heart that belonged to an animal, if it is much faster?
This could be a good solution for the organ shortage. But how will it affect healthcare, our society, and yourself as a person?
Every month I write a future scenario to amaze, inspire, frighten and above all make you think about the increasing role of technology in our lives.
In this month's scenario, I explore the future of organ transplantation from animals to humans.
Enjoy reading!
Peter
PS. Let me know what you think of the scenario! It is my ambition to become better at writing future scenarios, so every bit of feedback is greatly appreciated.
Scenario: Herman and the pigs 🐽
"I think it was the breakfast this morning," Claudia says, sitting down on the bench. "You also look a bit pale," Karin responds. "Would you like some water?" She swings her blue Patagonia backpack over the front of her body. "Let's see," she mumbles as she rummages through the backpack. "Here."
"Thank you," Claudia replies. She opens the cap and takes a few small gulps. She closes her eyes and takes a few deep breaths in and out through her nose. "It's okay again."
"Herman likes the pigs," says Claudia. "The last time I was at a petting zoo with Maaike, she was fond of the goats. The pigs didn't bother her that much."
Claudia feels a twinge in her stomach. Her son Herman enthusiastically points to the pigs. When she and Karin get ready to continue walking towards the chickens, he starts to cry.
Karin: "It's nice how children feel so connected to animals. In our time, you still had factory farming. Fortunately, we no longer need that with synthetic meat and bioreactors."
Claudia hopes Karin stops talking. Nope. Karin finishes her stream of thought. "Or what about xenotransplantation. I'm glad it is forbidden here. What is the difference if you breed an animal to eat or to use the organs of the animal! It is both inhumane."
Claudia remains silent. She looks at Herman. She visits the petting zoo every week, especially the pigs. Nobody knows, only she, her husband and the doctors at the special clinic in Hainan.
Thanks to the pigs, Herman is still alive.
Pigs make me think of the movie Babe 🐷
In the writer's room
I wrote this short story based on an assignment I recently did for the general practitioner training of the UMC Utrecht. In July 2022 I gave a lecture about human augmentation for the PhD students of this study program in a beautiful church near a castle in Zeist (NL).
During the lecture, I discussed a number of technological developments, which are not about healing, but about augmentation. Think, for example, of exoskeletons, pharmaceuticals, genetic modification and brain implants. The nice thing about an audience with doctors is that I often hear that they never actually look at their own profession in this way.
Related to genetic modification is xenotransplantation. In this method, a human receives an organ transplant from an animal. This is usually a pig, because its organs are fairly similar in size to those of humans. In January 2022, there was a breakthrough: for the first time, a genetically modified pig heart was transplanted into a human patient.
For the scenario, I thought it would be interesting to tinker with the idea that this method isn't allowed everywhere. How far would you go for your own health? Or your child's life?
And on a personal note: our son Hidde is now 10 months. Few things can make him happier than a visit to the local zoo. He especially likes the goats. Not like Herman, who feels more connected with the pigs…
My lecture in the church in Zeist (the client asked me to blur the faces of the attendees).
Into the Rabbithole
Articles, books, podcasts, videos, documentaries and more on this theme:
1) If you want to know more about xenotransplantation: this is a good article on NEO.LIFE about the advantages, disadvantages and costs.
And this critical article on WIRED about ethical dilemmas, such as: who is eligible for a new organ, who pays for it and is it really the solution to the organ shortage?
2) Margaret Atwood is best known for her book The Handmaid's Tale. She also wrote Oryx and Crake, the first part of the MadAddam trilogy. This part is an exciting story with absurd protagonists in an uncomfortable (but not unrealistic) future world.
In the book, human pigs, after a biotechnological experiment gone wrong, play an important supporting role.
3) Episode 9 of The Future of on Netflix is about the future of healthcare. Netflix made this series together The Verge, a bit in the style of Explained: short episodes, small snippets, and easy to watch.
Funny: this episode also features people who have fascinated me for some time, such as Silicon Valley entrepreneurs who strive for immortality and even Dave Asprey from Bulletproof. Thanks Maarten den Braber for the tip!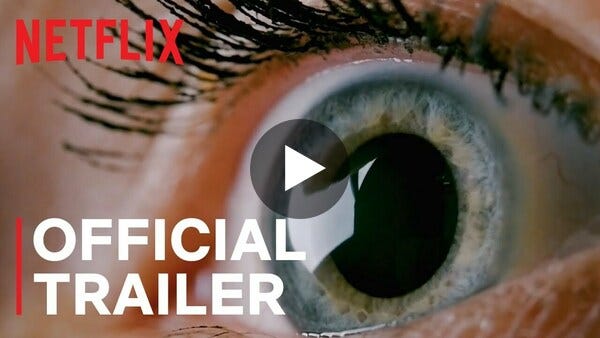 Official trailer of The Future Of on Netflix
Webinars & Keynotes
I give lectures (online and offline) about human augmentation, mega trends and health care innovation. These are upcoming events where I will give a talk or webinar, in Dutch or English. Great to see you there!
Lecture Ministry of Infrastructure - September 29, 2022

Lecture NVTG - September 29, 2022

Lecture Actuary Day - October 6, 2022

Lecture Furore, October 13, 2022

Lecture Arbeidsinspectie - October, 14 2022

Lecture Imagine Film Festival - t.b.a. October 2022

Lecture Biohacker Summit Amsterdam - October 15, 2022 (English)

Keynote UPPS TU Delft - November 10, 2022 (English)

Lecture Jeroen Bosch Hospital - November 18, 2022

Lecture Topsprekers Zorgonderwijsvernieuwers - November 25, 2022

Lecture Talententuin Achterhoek Werkt - November 25, 2022

Workshop municipality of Doetinchem - November 2022

Lecture Unica Hengelo in 2022 (date tbd)

Lecture EDSN in 2022 (date tbd)

Lecture Royal Airforce - May 7, 2023 ✈️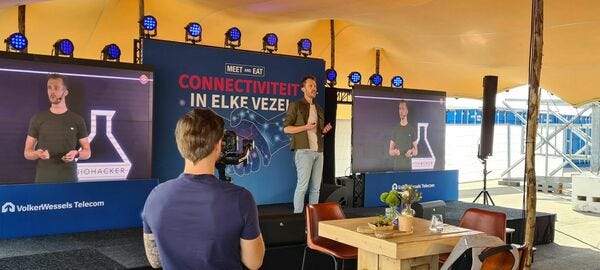 A couple of weeks ago I spoke at an outdoor event by VolkerWessels Telecom. Being outside, ok in a tent, gives a different vibe to my work. I like it!
Thank you
Thank you for reading! This newsletter is free, but not cheap to make.
You can help me in a number of ways: forward it to someone who likes it, subscribe to my YouTube-channel, hire me to speak, or for a webinar 😘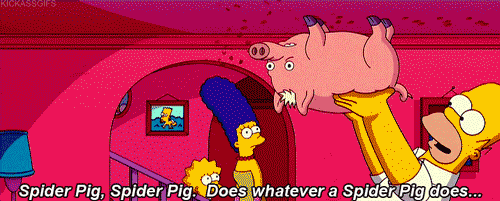 Till the next one!